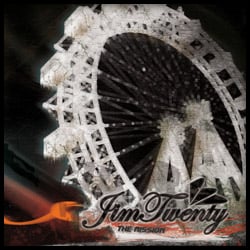 €

3.99 - On Sale
ONLY 20 CDs LEFT!
Grab one of the last originals!
JIM TWENTY fuel the heavy riffs of
emocore with energic brass, melodic refrains and explosive mosh
parts, showing that these guys stop at nothing to fashion their very
own sound.
On their 2009 EP THE MISSION, the six musicians present a literally
mindblowing fusion of sounds, with highlights like CUT OUT aiming
straight for every music lovers ear canal.
Tracklist:
01. Entrance (Intro)
02. Dreaming
03. The Mission
04. The Feeling of Beeing Dead
05. Cut Out
06. Lui Kang
07. Exit (Outro)
Also, the EP is now available for
FREE DOWNLOAD.